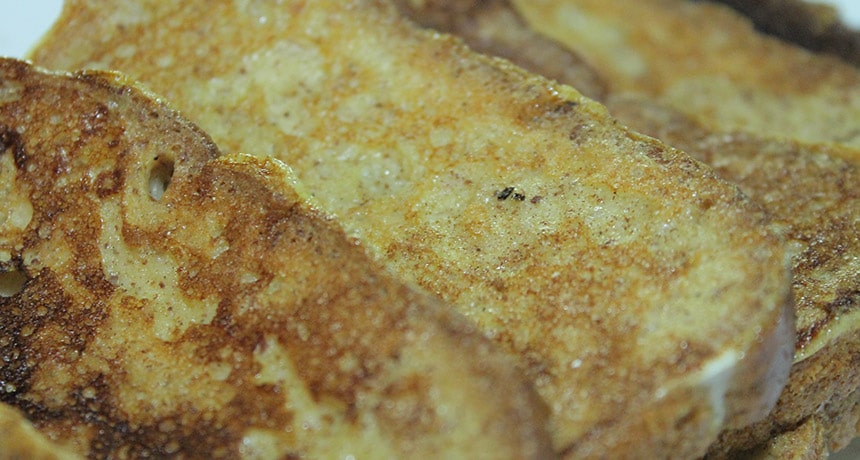 My daughter loves french toast. It used to be something I would take the time to make during their Christmas break from school. So, this year, it was suggested that maybe I could figure this out and we could have it for breakfast. So here is our Gluten Free Eggnog French Toast.
We of course use Udi's Gluten Free Bread. We prefer the Multi-grain, but it would be equally delicious with the white or the cinnamon raisin. My mother always put butter on one side of the bread to make it extra delicious, however Gluten Free Bread does not do well with the butter on it. It simply does not allow the egg to stay on it. So, that delicious step is omitted. The egg stays on the bread better with no butter.
Gluten Free Eggnog French Toast
Prep Time
10 mins
Cook Time
20 mins
Total Time
30 mins
We are huge cinnamon fans, and that comes through in our french toast. Gluten Free, eggy and delicious this morning treat is perfect for that lazy snowy morning where you need to feed the troops!
Servings: 12 slices
Author: Divinely Gluten Free
Ingredients
12 slices Udi's Gluten Free Bread
5 large Eggs
1/2 cup Egg Nog
1 tsp Ground Cinnamon
Butter for the pan
1 tbsp Rum totally optional
Instructions
Preheat an electric griddle to 350 degrees. If you do not have an electric griddle, fire up that fry pan and put a little butter in it.
In a small flat baking dish, whisk together the eggs, eggnog, cinnamon (and rum if you want a little.)
Place each slice of bread into the egg mixture, flip so both sides are coated with the egg.
Transfer to the griddle and do another slice until you have a griddle full of french toast slices.
Cook the bread until the bottom has browned, then flip and cook the second side until golden brown.
Sprinkle with a little cinnamon sugar, and plate.
Serve warm with maple syrup and/or whipped cream, and a mug of hot chocolate
Resources: